Autoclave Free Laminating Equipment – Flat Glass
Autoclave Free Laminating Equipment – Flat Glass
Autoclave Free Laminating Equipment – Flat Glass
A new glass laminating equipment called GLS has been developed by Gyrotron Technology Inc. for producing laminated glass and solar panels without the use of an autoclave. This equipment provides continuous production of safety, hurricane, ballistic, fire-rated and other laminated flat glass products by using standard, commercially-available adhesive films such as PVB, EVA,TPU, etc.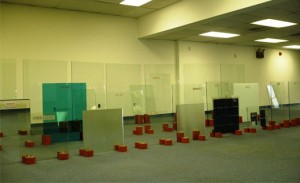 The GLS equipment can be built for any custom sizes and variations of glass thickness. The laminating cycle in a standard GLS design is 3-6 minutes; however, a special design for cycles of less than one minute is also available. Only 0.15 kW-h is needed to laminate one square foot. This is almost 50% less energy than required by common laminating lines with autoclaves.
Both large and small companies can benefit by using the new glass laminating equipment. It is fully automated and easy to operate. GLS requires minimal maintenance and no special knowledge or experience.  It is the best option for bringing your laminating business in-house.  The average return time on investment is less than one year.
GLS Laminating Brochure – click here to download.
To learn more – click here to download our presentation.
See the GLS Video Here:http://www.youtube.com/watch?v=ZZLmNiXJKFg